The quartz diver. Got this one from an interstate auction house. They didn't disclose the condition of the watch and no pictures of the movement were shown so needless to say, this was a purchase based on hope.
So, once it arrived at my doorstep, my excitement couldn't be restrained and my curiosity got the best of me. I quickly gave it the once over.
The watch was acquired as a job lot with 3 other vintage Seikos which I will look at after this restoration. This one didn't come with any straps or bracelet at all. Since the serial number has revealed that it was made in August 1981, it is my hope that the battery had been replaced since its original purchase otherwise I can expect battery leakage in the movement.
The pepsi bezel didn't click when turned and in fact it was loose so makes me wonder if the clickball has gone missing or maybe stuck down its chamber. We will find out soon.
Testing the Crown and Winding Stem, the crown threads seemed good as I can unscrew the crown with no resistance as well as screwing it back in with real smooth turning. The watch hands did turn freely so that's a good sign, albeit there's visible "lume rot" on both hour and minute hands. The seconds hand had its black half faded into what looks like rust colour or maybe just faded out. I'll put in consideration painting it matte black to restore it like new.
I'm happy to say that date changes happens exactly at 12 midnight, not a second before or after so I'm really happy about that. The calendar wheels were still legible and that's another plus.
Okay. The crystal has seen more than its fair share of abuse. It has deep scratches and some distortion as one can hardly see the time through it. This will have to be replaced. I'm thinking of a flat sapphire with AR.
So far, we have these issues to attend to:
Gasket set
Badly scratched crystal
Bezel not clicking right
Old battery – SR1130SW
Missing lume pip on bezel
Winding Stem washer (possibly)
Job Item Condition
Aside from the above mentioned observations, the movement was found to be clean and has no sign of water or moisture ingress.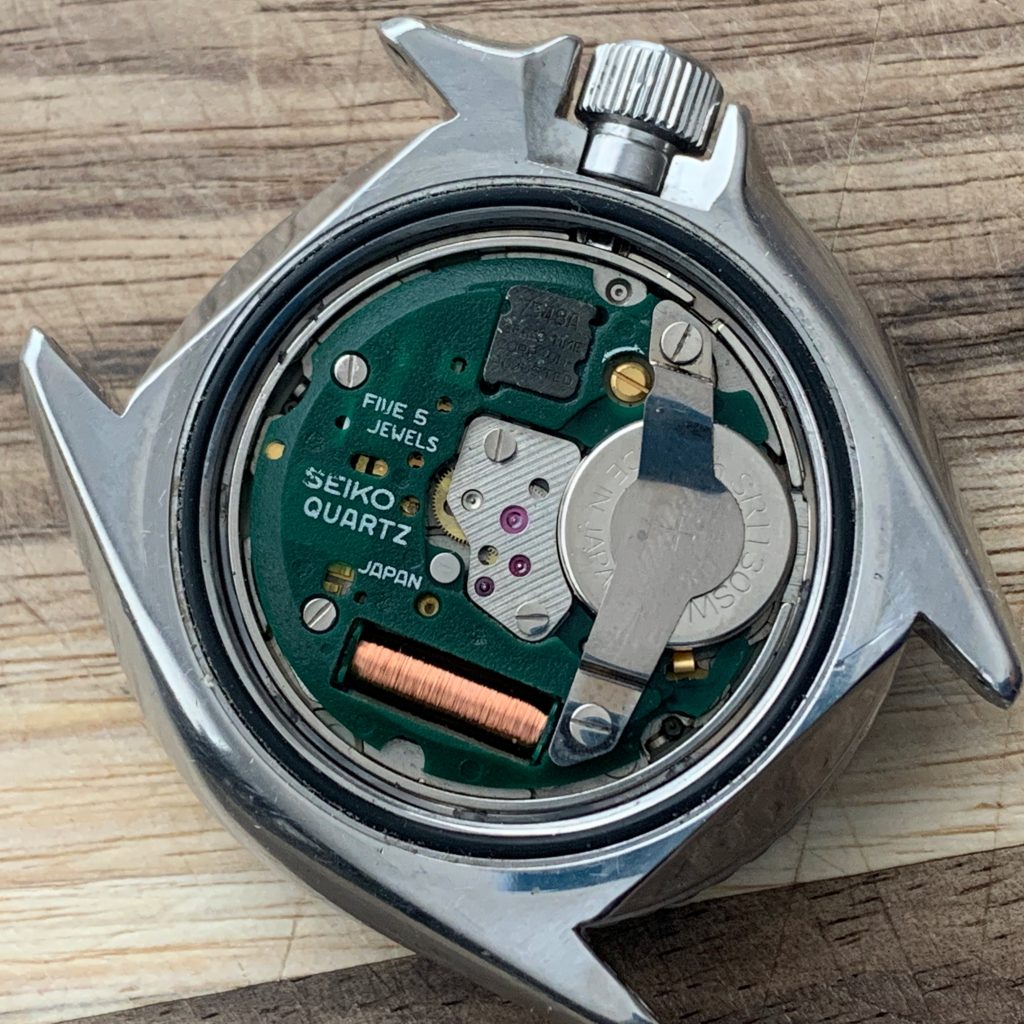 Original movement. No leakage. Pivots need cleaning and lubrication.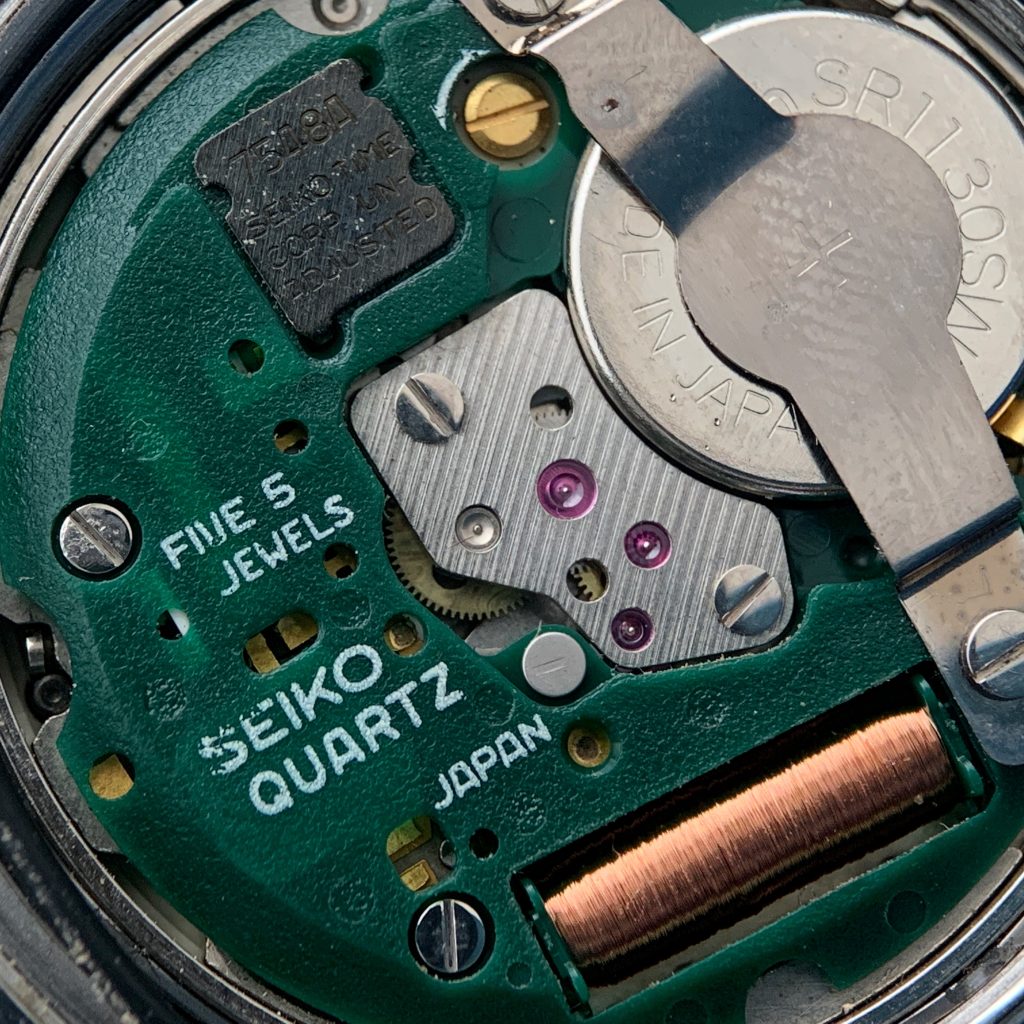 Here's the lume rot and faded seconds hand. Note the missing pip as well.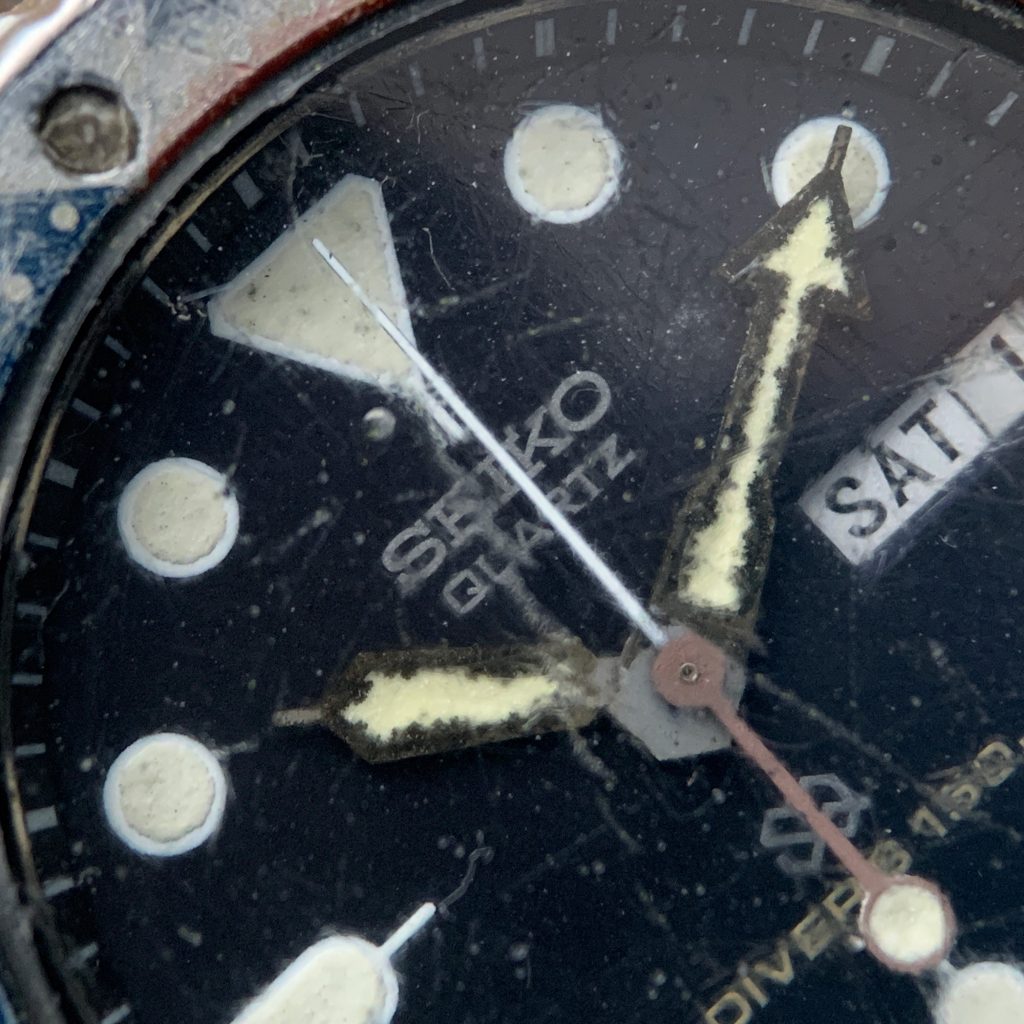 Well, that's our initial inspection and so far, I'm happy with my purchase as everything seems to be OEM. I'll grab a battery this Tuesday and see if it's going to run and then we get to decide our next course of action moving forward.
Chat soon.
To be continued…